※We use a translation site to write articles. We apologize if we have translated incorrectly.
We would like to introduce you to MNM Gaming. After winning all of their matches in the European Challenger League 2021 and earning a promotion to the EUL next season, their momentum will not stop at the Six Invitational 2022.
We will take a closer look at the strength of MNM Gaming with data from the EUCL to the EU Closed Qualifier.
Members
The R6 division was launched in 2018, and the team has won the EUCL in 2019. (before being bought out by NAVI) In 2020, they competed in the EUL replacement tournament, but were unable to be promoted. The roster was changed in 2021. We acquired neLo and Tyrant at the end of May 2021, and Neonical and Solotov at the end of September 2021. The addition of neLo, who was once the world's best player, was a particularly big deal for MNM. Yuzus has been a member of MNM since August 2020.
Features of MNM Gaming

Tyrant and Yuzus are noteworthy. Their shootouts are quite strong. MNM will show you how to defend with that shooting strength. It will be very difficult to break that stronghold. Tyrant's "1st Kill Rate" is high, and will give your team a boost.
The IGL for this team is neLo. In this game where kills are not everything, his contribution is significant. He supports the team in invisible ways, such as locking with drones to make sure the team's attacks work.
One of the characteristics of MNM is its quick response. This gives you more time and allows you to fight more consistently.
MNM Gaming in Data
| | |
| --- | --- |
| Tournament | Results |
| European Challenger League 2021 | 1st |
| S.I.2022 Europe: Open Qualifier #1 | 33rd place tie |
| European League 2021 Relegation | 1st |
| S.I.2022 Europe: Open Qualifier #2 | 1st |
| S.I.2022 Europe: Closed Qualifier | 1st |
| UK & Ireland Nationals – Rainbow Rumble 2021 | 3rd(DNF*) |
*MNM Gaming withdraw from the tournament to focus on SI 2022.
They have been boasting great results since the new regime took over. As of January 30, they had played 20 games and lost only two. At the EUCL, they finished with all wins in a tense, one-shot competition, and he is also a strong competitor.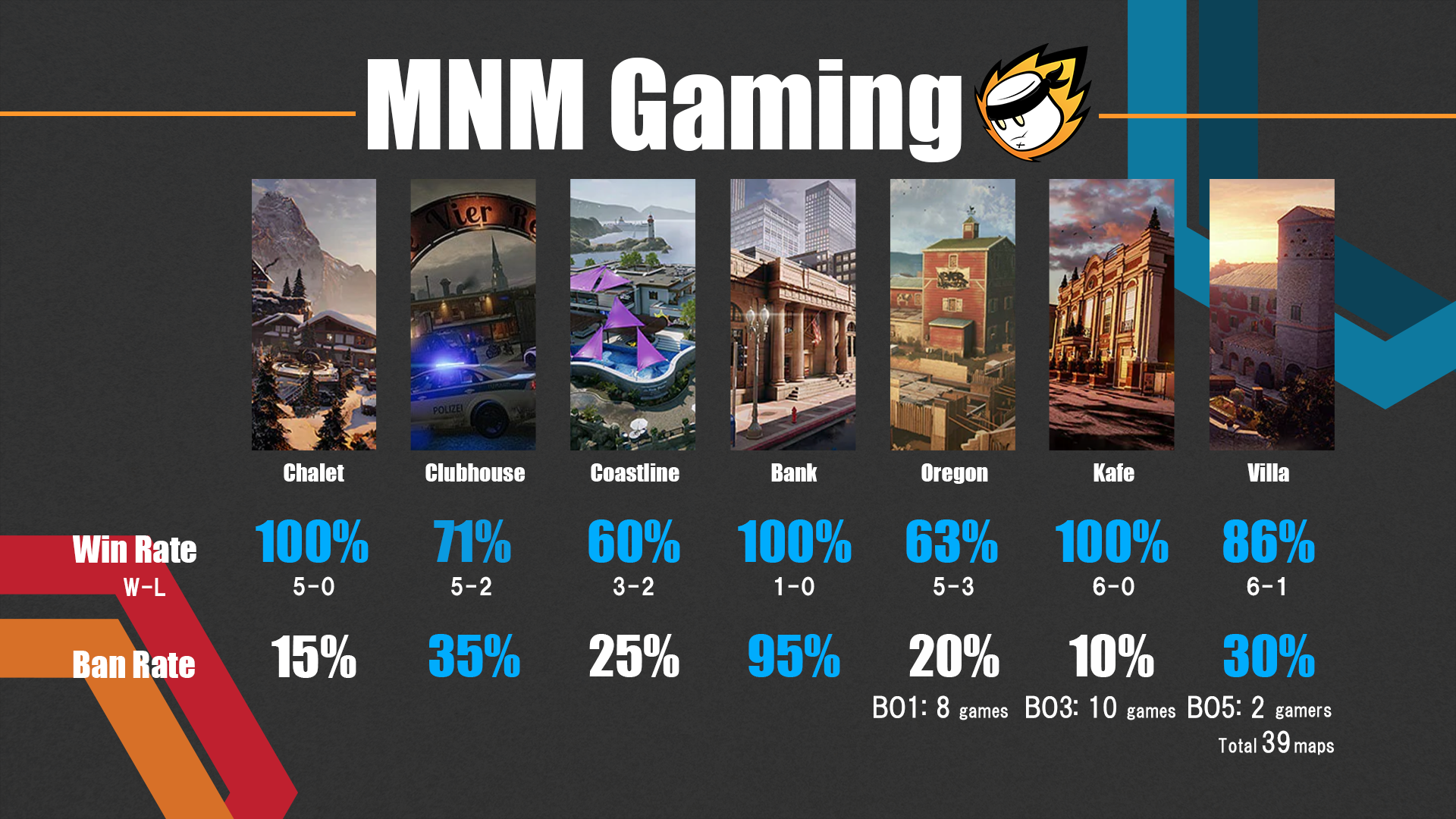 ・Maps WIN RATE
Please take a look. The win rate on every map is over 60%, which is an amazing record.
They are not in the top league, but there are not many teams in the world who have achieved this level of success. This momentum will not stop at the Six Invitational 2022. I'm really looking forward to it.
・Maps BAN RATE
The map they hate the most is Bank, where they have banned 19 out of 20 matches. They don't have much time before the Six Invitational, but they will be well prepared. Cafe, with the lowest ban rate, is one of their best maps.
Match Schedule
The outline of the group stage will be released as soon as it is announced.
We introduced MNM Gaming. They have a lot of momentum and I am looking forward to seeing what they can do.
MNM is also very interested in Japan, and tweets a lot in Japanese on Twitter. Please check them out. When cheering them on, tweet with #炎のために!
MNM Gaming: Twitter
Click here for a summary of the Six Invitational 2022
Click here to see the other teams